Tourist route Zaprešić – Kraljev Vrh - Stubičke toplice – Donja Stubica – Marija Bistrica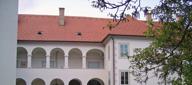 The road to Marija Bistrica begins in Zaprešić with the asphalt road to Jablanovac, where at the center, beside the chapel, a marked hiking trail leads to Kameni Svati and the hiker's lodge the altitude of 482 m. This is the most beautiful natural belvedere from the Medvednica mountain to Zaprešić, Hrvatsko Zagorje, Samobor hills, Žumberak and in good weather, also Triglav mountain and Kamnik Alps. The route leads through the village Poljanice Bistranske where we recommend the steep road to the Church of St. Nicholas from 1631 and the unique view to the Zaprešić area.
Along the road there are many well-preserved wooden houses of traditional architecture of the area and a turn will take you to the Oršić castle in Gornja Bistra. The route then continues to Kraljev Vrh with the Church of the Epiphany. There are some local bistros in the center of Kraljev Vrh. The path off main road leads to castle Jakovlje.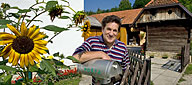 Returning to the main road towards Stubičke Toplice, the famous spa, will lead you to various sports and recreational facilities and a rich gastronomic selection of Zagorje delicacies. Three kilometers west of Stubičke toplice the route leads to Donja Stubica, famous for its Gothic Church of the Holy Trinity and the nearby castle Stubički Golubovec. The trip continues to Marija Bistrica where the whole feast and fair complex is wide spread, with many religious objects and stops, chapels and crosses, marking the way to the Marian sanctuary. In one of the chapels along the road there is the representative Baroque stone sculpture of Maria Immaculata. Soon you arrive to the Croatian pilgrimage center, Marija Bistrica and the Sanctuary of the Mother of God of Bistrica. There is also the gallery by the academic sculptor Pavle Hudek. The cultural heritage of the area also includes old crafts and we recommend the traditional manufacture of Master Tomo in Globočec, as well as the home manufacture Kunić in Laz Stubički.
Accommodation and catering options: Hotel Matija Gubec – Stubičke toplice, Stubičke Toplice Spa – Stubičke toplice, Terme Jezerčica spa – Donja Stubica.