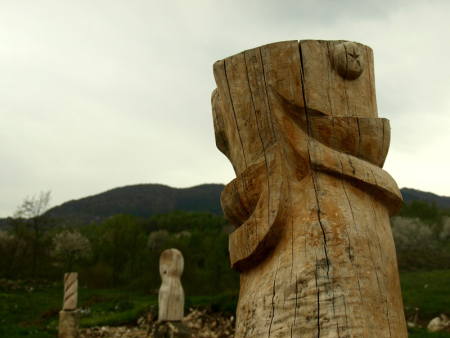 08.09.2011
The UBU Association has set a sculpture park on Žumberak
In Sošice, one of the largest and also the most visited tourist resorts in the Park Žumberak, at the end of 2010, an unusual sculpture park - totems was built and installed in the Park as part of the project Park in the park.
PUP is a project organized and implemented by UBU (association of former students of ŠPUD), in collaboration with the School of Applied Art and Design and the Nature park Žumberak - Samoborsko gorje hill range, and will be implemented in partnership with the project "Wood is the first" whose head is Croatian Chamber of Economy, Ministry of Agriculture, Forestry and Water Economy and the Croatian forests. The main objective of "Park in the park" is to promote educational - artistic creativity within tourist destination Natural park Žumberak and the creation of a new micro - tourist location that combines the work of the younger generation of artists and unspoiled natural resources.
PUP took place in 3 stages of the workshop "Park in the park" with students of sculptural and architectural departments of ŠPUD under the mentorship of prof. Filip Pintarić d.i.a., Bernarda Cesar aps. architect and sculptor Miroslav Sabolić. The first stage was to introduce the idea of the parameters important for its realization, which took place through lectures and discussions on topics: ethnological origins, traditions and the importance of wooden totems and applied wood sculptures in Croatian history, ecology and sustainability of forests and forest world, the importance of wood as a building material in Croatia and beliefs about trees in Croatia. During the first phase wood was procured and the locations of future parks were visited.
The second phase included making sculptures through workshops and curriculum, occasionally organizing discussion and evaluation of achievements in collaboration with professors and ŠPUD.
In the third phase sculpture exhibition was implemented at the planned site, while respecting environmental determinants (exclusively use of non-harmful natural materials).
All members of the UBU Associationare former students of the school of applied art and design that have continued their education in colleges of architecture, design or art school. In cooperation with other former students, now professors in schools and public cultural life of Croatia, move into a collaboration to an even higher rung of the individual and the relationship of art, and art collectives, checking their own expertise in the new long-term projects of the Association.