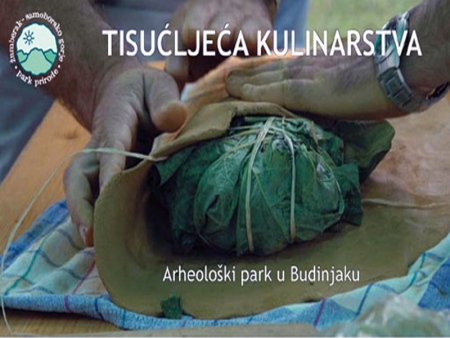 08.09.2011
"Millennium of the cuisine" - traditional workshop of prehistoric, roman, medieval and traditional cuisine of Žumberak
Workshops "Millennium of the cuisine" will be held on Saturday, 10th and Sunday, 11th September 2011 in the Archaeological park in Budinjak, and to participate in them, it is advisable to notify the Public institution "Nature Park Žumberak - Samoborsko gorje hill range." The program lasts from 10 am to 6 pm.
The program begins with a tour of the archaeological park along the educational trail of the princes. After a leisurely stroll visitors start with the preparation of food in the excursion area in front of the Eco-center Budinjak. Divided into four groups, equipped with outdoor furnaces visitors prepare meals according to prehistoric, roman, medieval and traditional recipes of Žumberak and after the completion of preparations they can enjoy the taste of food of past prehistoric and historic periods, as well as dishes that are served today as well as centuries ago, served on tables of Žumberak families.
To prepare food the way it was done in prehistoric visitors some of the ingredients collect themselves on the nearby grass and use wild plants that represented foundation of diet of prehistoric populations of the area. Some of the dishes are prepared using a special baking technology in clay molds that visitors create on their own.
If smell of strangely spiced wine of the Roman did not reach up to your nostrils and the taste buds have not experienced a harmonious taste of chicken in sauce verjuicea (liquid obtained by squeezing premature grapes), you know what to do - do not miss the opportunity to participate in the workshop, "Millennium of the cuisine". Public institution "Nature Park Žumberak-Samoborsko gorje hill range" eagerly awaits you!
Information: Public institution "Nature Park Žumberak-Samoborsko gorje hill range",
tel. 01/3327-682
http://www.park-zumberak.hr/dogadanja/tisucljeca_kulinarstva.html
E-mail: arheolog@park-zumberak.hr or morena.zelle@park-zumberak.hr